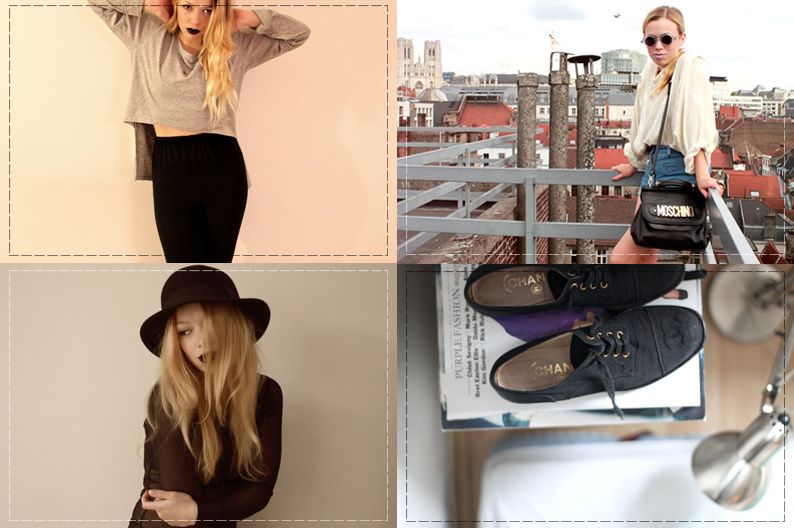 Ivania is a lovely fashion blogger from the Netherlands whose lips are always covered by a dope colour of lipstick. She does amazingly creative, simple and relevant DIY's (good for a pathetic sewer like myself) and isn't scared to share her opinion about fashion and life. I describe her style as original, relaxed, minimalist, edgy, comfortable, vintage, slightly grungey and VERY tasteful. Here goes..

1. Utmost and foremost, why do you blog?
I started blogging because I fell in love with the idea of fashion becoming more democratic. Blogs provide a platform where everyone has a voice, no matter how small it is as opposed to big fashion magazines dictating what's in and out of fashion. This will be the era where everything is possible.

2. Here's a cliche question, where do you get your fashion and style inspiration?
I can become inspired by a 40 year old dress from a vintage shop or the newest looks on a runway show. Original ideas and solutions make me very enthusiastic. Like for example the reversible collection by Rad Hourani. It was such a great interpretation of how clothes can be worn. It kind of fades out your own boundaries and changes your own view. Suddenly you start looking at your own wardrobe differently and see more possibilities.

3. What are your three favourite online stores for all us self-confessed shopaholics?
Openingceremony.us, urbanoutfitters.co.uk/boutique and mytheresa.com/shop/home.php

4. Your wardrobe favourites and/or must haves for a wardrobe?
At the moment the perfect pair of leather pants from COS. Perfect for cold weather, I don't need to wear 3 pantyhose underneath to keep warm.

5. What wouldn't you be caught dead wearing?
Uggs. For the rest I believe everything can be beautiful. Sometimes I see it as a challenge to make a disgusting item look good. It usually starts off as a joke, buying a repulsive trashy legging in a thrift store and later deciding to really wear it.

6. For all starting bloggers, please give three tips on how to improve a blog. What must/must not you do?
Your blog has to have a clear look, people will not make an effort to understand what your blog is about and will click away within seconds if it is not clear. Have large images on which the details can be appreciated. Have a layout from which the sidebar doesn't distract from the actual content.
Update frequently. The more you update the more your readers will come back to check your new posts. I personally check blogs daily if I know they update daily like carolinesmode or anywho. But often I also forget about a blog when I check back 3 times and don't find anything new.
I think the most important thing is to make your own content. We all know the newest products from TopShop and Asos so just posting a picture from their website won't tell your readers anything new. They won't become inspired and won't return. However, showing new original ways to wear that Topshop item would!

7. What do you do outside the blogging realm?
I'm in my second year of studying journalism. I occasionally blog for mykromag.com and I am also mom of my four year old daughter Lois.

8. Your complexion and skin are so clear. Could you please share some beauty tips/products/habits?
I never tan, it's very damaging for your skin and dries it out so much. I use a very plain Oil of Olaz moisturizing cream every day. I don't use foundation on my entire face, just the areas that need it, under my eyes and occasionally on little spots. That's about it!

9. If you were to travel anywhere soon, where would it be and why?
Hard to choose one destination! My new year's resolution for 2011 was to travel more. Copenhagen, Stockholm, London, Berlin and Indonesia are on my list for this year.

10. This is the last question that isn't really a question, so what do you have to say?
The message that I'm trying to get across with my blog is mainly think for yourself. We're lucky to be in such a changing tolerant time where there are so little limits. So don't waste that luxury and form your own ideas, act the way you want (which includes: wear whatever you feel like).

Thank you to everyone who submitted their link to me on IFB to be interviewed, but unfortunately the thread was deleted (no idea why) so I lost track of everyone who submitted :( Luckily I remembered Ivania from love-aesthetics expressing her interest and since I'm a fan myself, it was rather fitting that I would choose her blog.

Visit here.